The Gothic Cowboy (M.Litton)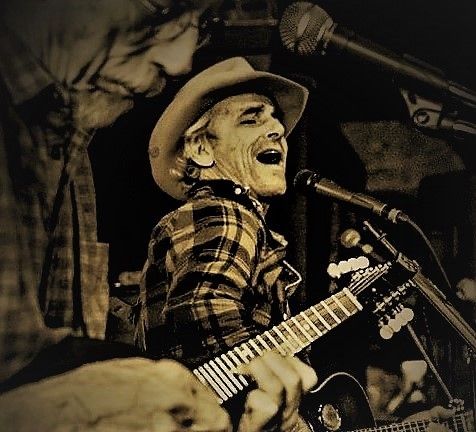 Bare Bones – Chance, Folly, Desire & Dream
(bio 2020)
Born in 1950, Melvin Litton grew up on a creek-bank farm and small town in Kansas. A straight arrow out of high school, he entered the Air Force Academy in '68 aiming to be a cold warrior/astronaut. But gazing out a window late one evening in the cadet library, listening to "Sounds of Silence" as the snow fell quiet on the darkened plain, he felt an urge enter his blood stronger than any dream of flying jet or rocket. Come Christmas he left the academy and with a wager won off a high-school buddy walked into a pawn shop and bought a $25 guitar. Within a month he'd written his first song and the following summer faced with dropping 150 bucks on a sweetheart's diamond ring or a sunburst Gibson, he choose the guitar, lost the girl, soon found one better and kept on pickin'. A few years on found him singing regularly in bars and he took the handle "The Gothic Cowboy," drew up a poster (which partly forms this cover), and rode solo as such over next 20 years through a maze of dead-end gigs, hitting Canada, New England, Colorado, Nashville, and Austin, finally landing back in Kansas.
There, in his mid-forties, he formed The Border Band with guitarist Roger Holden and drummer Dave Melody. Again, over a 20-year jaunt they played their brand of rawhide rock 'n country blues through 100s of regional gigs, shifting through more bass players than a spider has legs while putting out 5 CDs, all gaining fair notice on roots music sites and indie radio.
Trail weary by 2016, he retired the band determined to ride out his days once more solo as The Gothic Cowboy. But he soon teamed up Mando Dan Hermreck and together they put out a double-disc "Between the Wars" in 2019. Nearing his biblical span, he offers "Bare Bones," a 4-disc set of homespun songs from his youth, subtitled "Chance, Folly, Desire & Dream" and best described in the liners from the back cover:
"These songs, just vocal and guitar, recorded in '78, '79, '81, and '84 on a portable cassette, are remnants and revenants from my roaring 20s and dirty 30s, when it finally dawned on me that singin' in bars would not feed my family and I'd need to hammer nails the rest of my days. But I done it 'n did it with a few good days to spare and these songs laid down like jailhouse cards, off-brand, crimped, scuffed, but there's a full deck here. High cards 'n low, cut 'n deal 'em anyway you like, one at a time or fan 'em forth in play of chance, folly, desire, and dream. Mix 'n shuffle, match a pair, make a full house, mayhap find you a flush, for sure a worn Ace or lowly deuce. And you can bet there's a joker or two in the bunch. So ante up, all you gotta do is hit 'play' to conjure the whisperings of Bare Bones…"
---
Between the Wars (2019)
(Melvin Litton)
I'm a creek-bank-ghetto boy, a two-legged child of the prairie. I been blown between the Rockies and the Rising Sun, and I've tumbled up against a few cities. I began my singin' on the northern tip of the Louisiana Purchase, along the night shores of Edmonton, Alberta. I stayed the whiskey season then caught a warm southeasterly. I've touched Canada, the North Atlantic, and mined Colorado all over; I found that Kansas has the softest loins. The military trained me to stand upright and I've worked a pick-ax and shoveled my grave a thousand times. The booze has begun to line my face.  I've got an opinion on everything and I'll sing till I'm hoarse or the stalls are empty. I consider myself a neo-pagan, a bat-winged balladeer. The earth is my totem and I hold by her and all her species. I fly the banner of the Dagger and the Rose and declare my faith in both; all this is in my songs. The Shepherd of Wolves, moon-mad and musical, I ain't no socialist jukebox. Mostly I bat my own pitches, though I'll hit an occasional Jimmie Rodger's spitter, the Hank William's slow ball, and that Bob Dylan slider.  I'm traditional enough to walk some pretty ballad and mean enough to go down swingin' against the knuckle ball...(bio penned in 1975)
*Note: When I retired the Border Band in 2016 after a twenty-year run, I aimed to ride out my days playing solo. But I soon partnered up with "Mandolin" Dan Hermreck, a fine player and even finer fellow. You can catch his sounds on our new acoustic CD "Between the Wars" along with these two exceptional guest artists/friends: Jeff Jackson on standup bass, and Til Willis on harmonica...
(Dan Hermreck)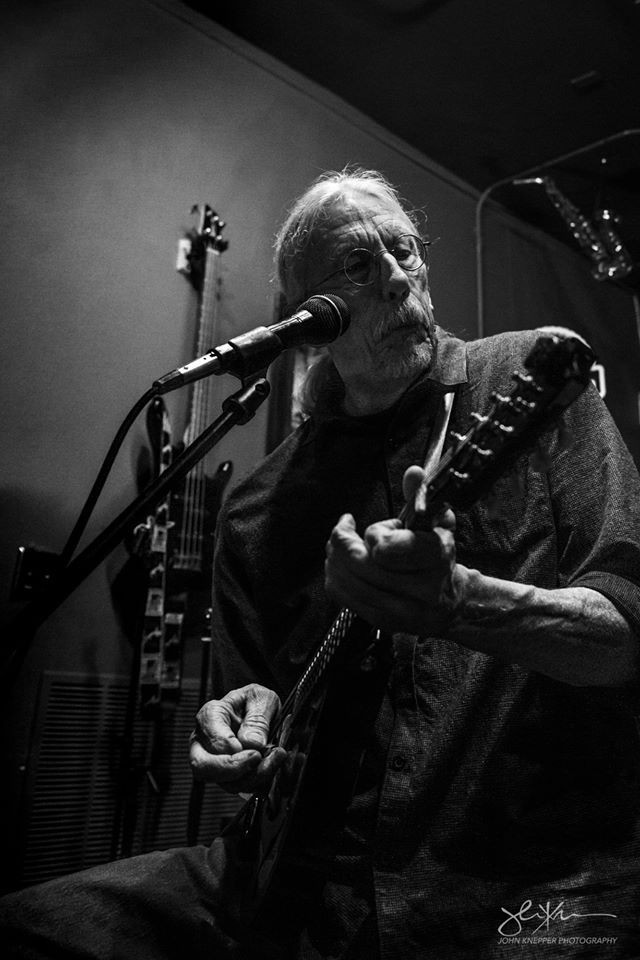 ---
The Border Band (2015)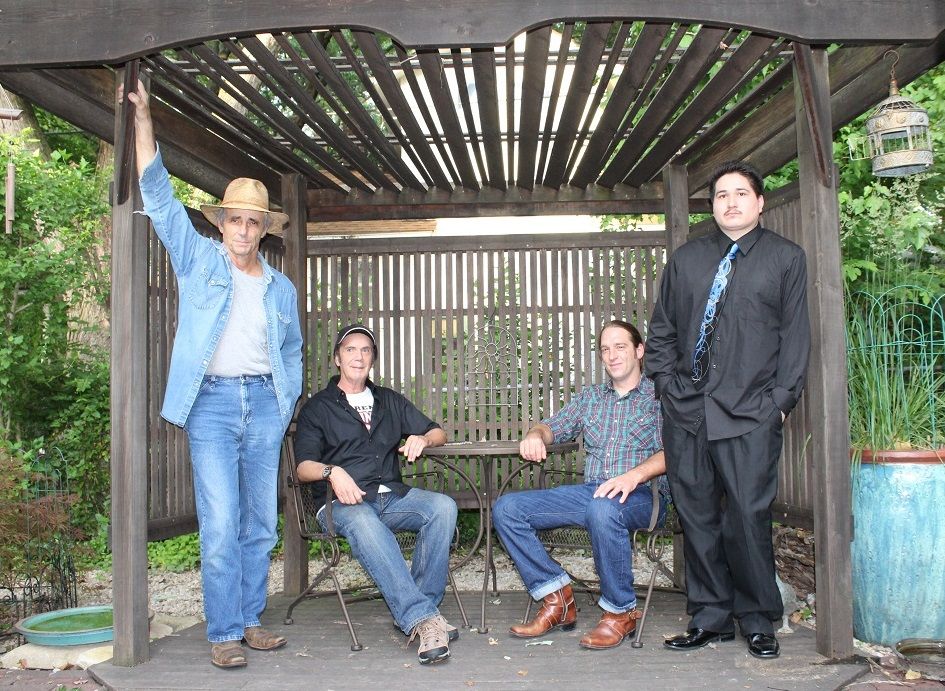 (Melvin Litton) (Roger Holden) (Dave Melody) (Hugh Campbell)         
The Border Band is a four-piece group of lead and rhythm guitar, bass and drums. Melvin Litton, yours truly, captains the band, plays rhythm guitar and writes most songs. I began performing over 40 years ago in Canada and have since played the northeast, down thru Nashville, Austin, up to Colorado and back to Kansas where I started out and will likely remain. My influences are Lead Belly, Jimmie Rodgers, CCR and The Band, while the juices of a hundred others flavor my music, not to mention the sun, moon, wind and stars, and the devil himself if that's what it takes to make a song. But I mainly rely on the better angels of my nature and two good men who've been with me for nearly 20 years, Roger Holden and Dave Melody. They've helped forge the sound and are a great part of what makes it click.
Roger Holden is a wizard on the lead guitar. Besides his own keen talent he draws inspiration from Hendrix, Santana, Stevie Ray Vaughn and BB King among others. He's played in a dozen bands covering every idiom from Classic Rock, Punk, Ska, Surf, Tex-Mex, Country, Folk and Blues. Fast 'n clean, slick as new cards, he knows when to "hold 'em" and knows when to "show 'em" -- and he shows nuthin' but aces.
Dave Melody plays drums but does a helluva lot more than keep time and proves in the act why the drums are a musical instrument not to be denied. He can tap a rhythm soft as raindrops dimpling the dust or boom like thunder rolling down off the mountains in a crash of cymbals and toms to chasm the earth and flood the prairie, all while singing a heartfelt song.
Through the years we've had as many bass players as a spider has legs, for one reason or another -- a girlfriend, work, a better gig back east -- none of 'em stuck. The last to go was Daniel Weaverling, a fine talent, and we nearly folded with his leaving.  Then a young man stepped up like an apparition out of the Old West – a young Navajo with a Scottish name, Hugh Campbell, full of fierce and wonderful song, adding fresh blood to our old skin.  And the drums beat on…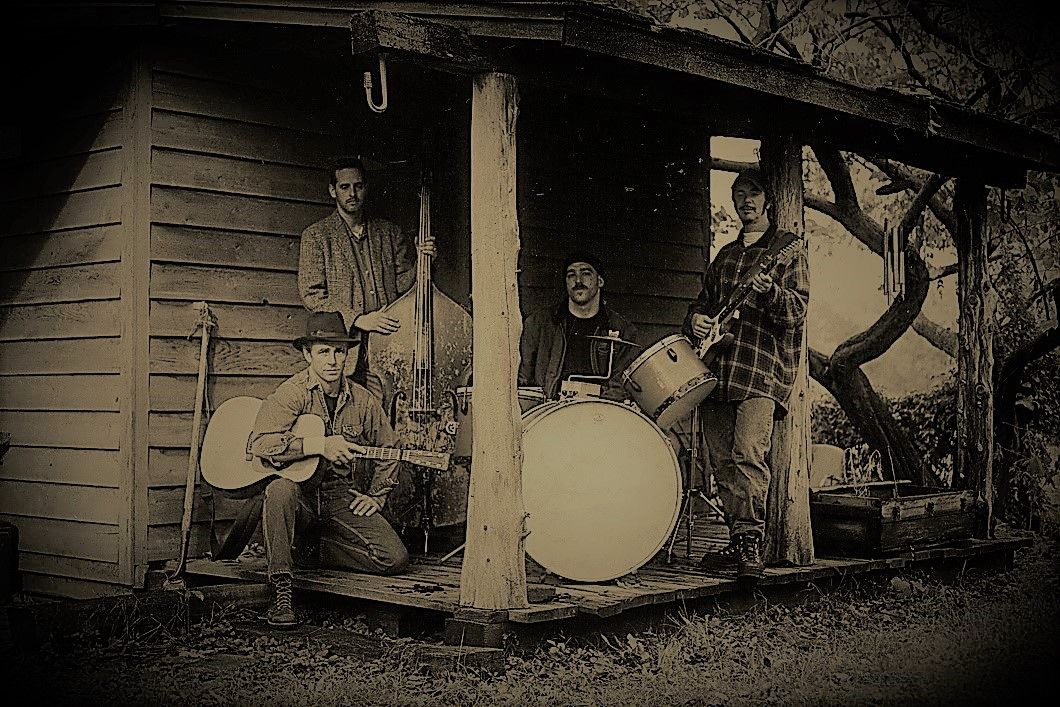 (The Border Band in 2001 -- "Rootless Seed")
Previous events
SINGER-SONGWRITERS: Eric Mardis, Gary McKnight, Lily B Moonflower, Hugh Campbell, Jonathan Woods, & Outlaw Jake w/Mando Dan!!!
The Gothic Cowboy & Mando Dan -- a raw blend of folk, country, rock 'n blues! No Cover!
SONGWRITERS: John Cutler, Emily Diane Stilwell, Ryan Manuel, Til Willis, The Bus Company (Dave Clark, Aaron Long, Nick Wells), Colby Walter, & Outlaw Jake w/Mando Dan!!! (*Note: Gothic Show is second Sunday due to Super Bowl -- back to First Sunday on March 1rst...)