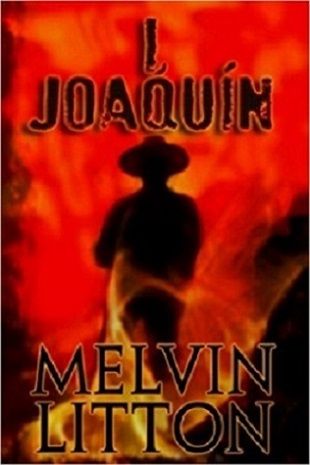 To buy go to: amazon.com/dp/B00LJLQOE0/

Before Jesse James or Billy the Kid, there was Joaquín Murrieta—lover, bandit, revolutionary. On July 25, 1853, a troop of California Rangers killed and beheaded the young bandit. It was believed his army numbered in the hundreds and that he planned to sweep the country south to Sonora. Thinking the matter ended, the Rangers preserved his head in a bucket of whiskey and rode to Sacramento to collect their reward. Yet with his death his fame only grew, along with rumors of his ghost in haunt of the Rangers.
At once a breath and echo of the legend, a soul's jornada, I, Joaquín reveals the bandit's voice, his reflections on his life and death, his love and vengeance, and the lone purgatory from which he speaks. Listen as he tells of his birth in a small village along the Magdalena. Of his youthful quest for mustangs through the Sierra Madres, of his love for Rosita and the horrid day that sets him on the path to war. Listen as he confesses his murders and mistresses, his head encased in a jar of aguardiente de cabeza, his voice present therein. Listen...for Joaquín has a tale.
"Full of adventure, history, and passion, this tale delivers an exciting ride through the Gold Rush with a singular hero." -- Kirkus Reviews
"In a style as plain as an old man's memory and with a young man's brimming heart, Melvin Litton takes us to the landscape of the soul where history and myth meet"—Richard Rodriguez, author of Brown: The Last Discovery of America
I, Joaquin
Previous events
SINGER-SONGWRITERS: Eric Mardis, Gary McKnight, Lily B Moonflower, Hugh Campbell, Jonathan Woods, & Outlaw Jake w/Mando Dan!!!
The Gothic Cowboy & Mando Dan -- a raw blend of folk, country, rock 'n blues! No Cover!
SONGWRITERS: John Cutler, Emily Diane Stilwell, Ryan Manuel, Til Willis, The Bus Company (Dave Clark, Aaron Long, Nick Wells), Colby Walter, & Outlaw Jake w/Mando Dan!!! (*Note: Gothic Show is second Sunday due to Super Bowl -- back to First Sunday on March 1rst...)