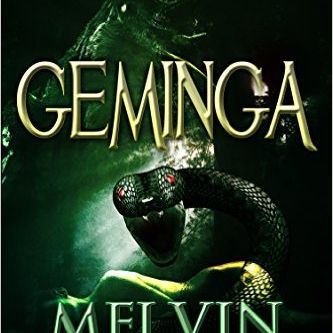 GEMINGA - M.Litton
To buy go to: amazon.com/dp/B01HPEDOPG/
"Very, very interesting..." – William S. Burroughs
Geminga comes from the Milanese, meaning 'That which does not exist.'
Imagine … a raven on the branch of a fruit tree speaks to you, complimenting you on the song you have just sung. You, Rodger Games, carpenter by day and guitar-player by night, are drawn by the wonder: the how, where, and why of its origins. A dialogue begins. But along with the mystery of the raven arrives the snake, a deadly 'breath-of-heaven', its assassin partner. The duo once worked for Shining Path, the Peruvian Maoist movement founded by the arch-ideologue, Zalo. Soon the trail leads to the Medellin Cartel and 'The Center' – a secret institute staffed by the tutored sons of Mengele and located in the remotest Amazon.

Adjacent to the dialogue appear farm workers and laborers – Black, White, Indian, and Hispanic – a young woman of focal beauty named Luana, and a midnight prowler who drives a black Porsche; and always, the ubiquitous digressions of memory. Where will it lead? To what end? Consider: ravens, snakes, and revolutionaries, God, Devil, man, and woman all transformed into a pair of dice … roll 'em...whadaya get? The lucky seven? double-sixes? or snake-eyes? And with what consequence?

The mystery is something of a creation myth. For eventually there is a harvest: the cruel scythe of political terrorism; the blessing of woman, fruit and song, and the promise of a mystical union, for with the harvest is planted the seed of new potential … Geminga.
Previous events
SINGER-SONGWRITERS: Eric Mardis, Gary McKnight, Lily B Moonflower, Hugh Campbell, Jonathan Woods, & Outlaw Jake w/Mando Dan!!!
The Gothic Cowboy & Mando Dan -- a raw blend of folk, country, rock 'n blues! No Cover!
SONGWRITERS: John Cutler, Emily Diane Stilwell, Ryan Manuel, Til Willis, The Bus Company (Dave Clark, Aaron Long, Nick Wells), Colby Walter, & Outlaw Jake w/Mando Dan!!! (*Note: Gothic Show is second Sunday due to Super Bowl -- back to First Sunday on March 1rst...)